An interesting turn of events in the past 48 hours sees Chris Miller and Phil Lord stepping down as directors of the Han Solo prequel movie and being replaced by Ron Howard.  What does this mean for the production?
Yesterday Deadline brought the bad news that Phil Lord and Chris Miller were stepping down as directors of the Han Solo prequel film.  I thought this was terrible news for several reasons.  Firstly, these directors have a knack for making projects turn out way better than they have any business being.  This director duo are the ones that brought films such as LEGO Movie and 21 Jump Street to the big screen.  So while Han Solo is one of the most beloved screen characters of all time, the fact that they were attached to direct is what got me the most excited because I figured if anyone could figure out how to make the prequel work (and let's face it, prequels are a tough nut to crack when the audience already knows the outcome), it would be these guys.
The second reason is because of how far into production the film is.  They are well beyond pre-production.  The film already has a script and cast and began filming January 30, with principal photography having begun February 20.  You read that correctly, the directors are bailing after the movie has already been before the camera for 4 months.  To me that feels like a major red flag, indicating that there could be serious problems with the film and not simply "creative differences."  Here's the comments from the parties involved, courtesy of Deadline:
"Phil Lord and Christopher Miller are talented filmmakers who have assembled an incredible cast and crew, but it's become clear that we had different creative visions on this film, and we've decided to part ways. A new director will be announced soon," said Kathleen Kennedy, president of Lucasfilm.

"Unfortunately, our vision and process weren't aligned with our partners on this project. We normally aren't fans of the phrase 'creative differences' but for once this cliché is true. We are really proud of the amazing and world-class work of our cast and crew," stated Phil Lord and Christopher Miller.
It didn't take long to discover who will be filling their shoes as today Lucasfilm announced that Ron Howard (Beautiful Mind, Rush).  Howard reportedly beat out Lawrence Kasdan and Joe Johnston for the gig.  Below is the official statement from Lucasfilm (via Coming Soon):
"At Lucasfilm, we believe the highest goal of each film is to delight, carrying forward the spirit of the saga that George Lucas began forty years ago.  With that in mind, we're thrilled to announce that Ron Howard will step in to direct the untitled Han Solo film. We have a wonderful script, an incredible cast and crew, and the absolute commitment to make a great movie. Filming will resume the 10th of July."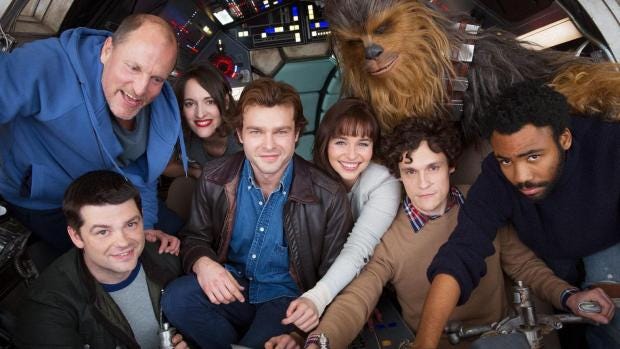 I have shared my views on Phil Lord and Chris Miller stepping down (or getting fired in gentle way by Lucasfilm), but if you're going to replace a director you could certainly do worse than Oscar-winning director Ron Howard.  Howard has a spectacular portfolio and was a name thrown around during speculation for who might direct Episode VII back before Abrams was hired.
Where does the production go from here?  Do they keep the footage already shot by Lord and Miller or does Howard essentially scrap it and reshoot the movie?  How does this change at the helm affect the May 25, 2018 release schedule (although Star Wars has performed very well with December releases of both The Force Awakens and Rogue One so it would not be surprising if they moved to December even without this shooting hiccup)?  Who gets Director's Guild credit for the movie?  I want this movie to succeed, but this is not a good sign.  Fingers crossed.
What do you think?  Does this director change spell doom for the project?  Will placing the movie in Howard's very capable hands help turn things around?  Share your thoughts in the discussion board below.  The untitled Han Solo prequel stars Alden Ehrenreich as Han, Donald Glover, Joonas Suotamo, Woody Harrelson, Emilia Clarke, Thandie Newton, Michael K. Williams and Phoebe Waller-Bridge.